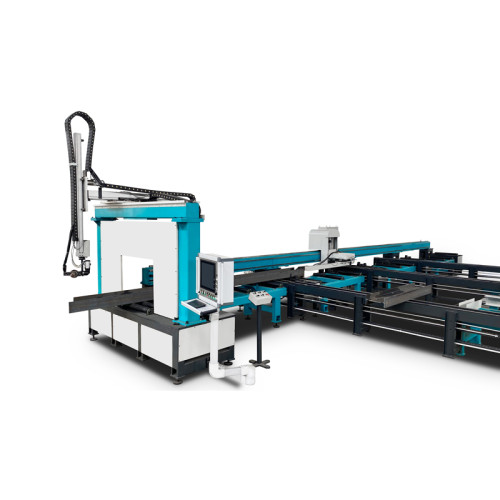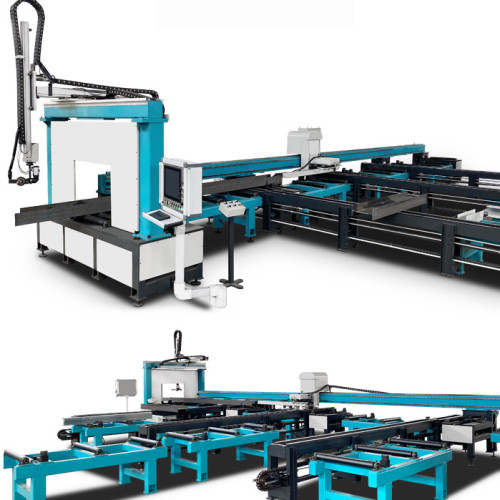 CNC Beam Plasma Cutting Machine
Model

YM-XH-600/1000/1250/1500
Item specifics
H beam size

100mm-1000mm 100-600mm
Channel steel size

100mm-1000mm 100-600mm
Cutting method

Plasma/Flame
Plasma power source

Herpertherm XPR300 or optional
Plasma cutting thickness

It is depended by plasma power source
Oxyfuel cutting thickness

Vertical cutting thickness 6-32mm
Effective cutting length

12000mm
Cutting precision in length

±1.5mm
Cutting speed

10~2000mm/min
Moving speed

10~6000 mm/min
Description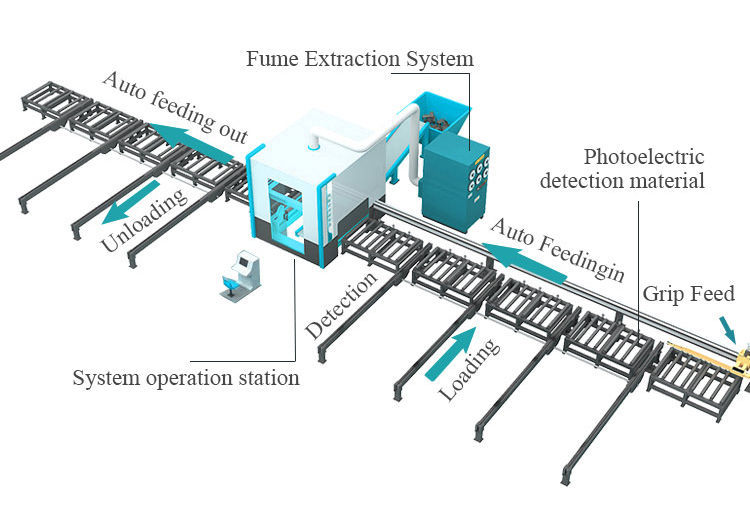 CNC Beam Plasma Cutting Machine
YOMI Patented invention, this machine is widely used in steel structure and large frame structure as a special processing equipment for H beam cutting.

Advanced intelligent cutting control system,it can generate G code directly,3D simulation operation,node expansion, ultra long profile partition; profile cutting optimization.It can be applicable to 3D cutting for all kinds of profile (H-beam, I-beam, angle beam, channel beam and others).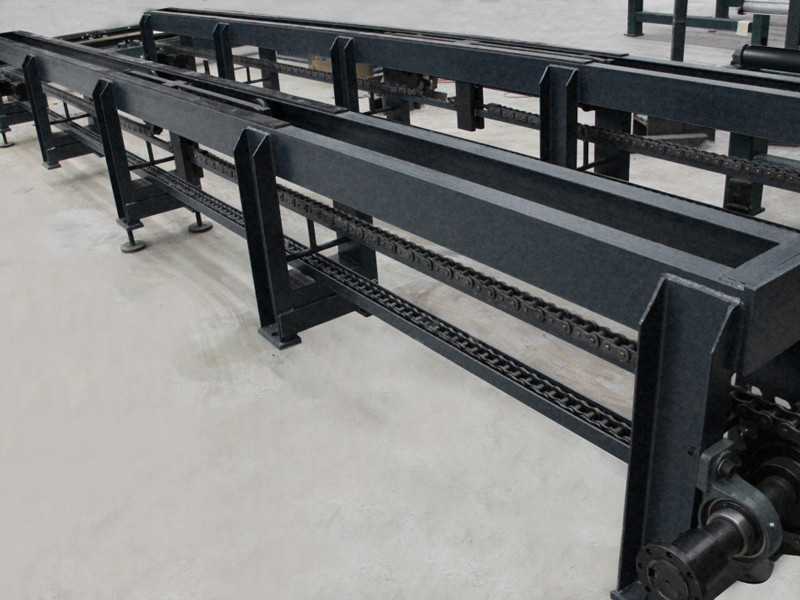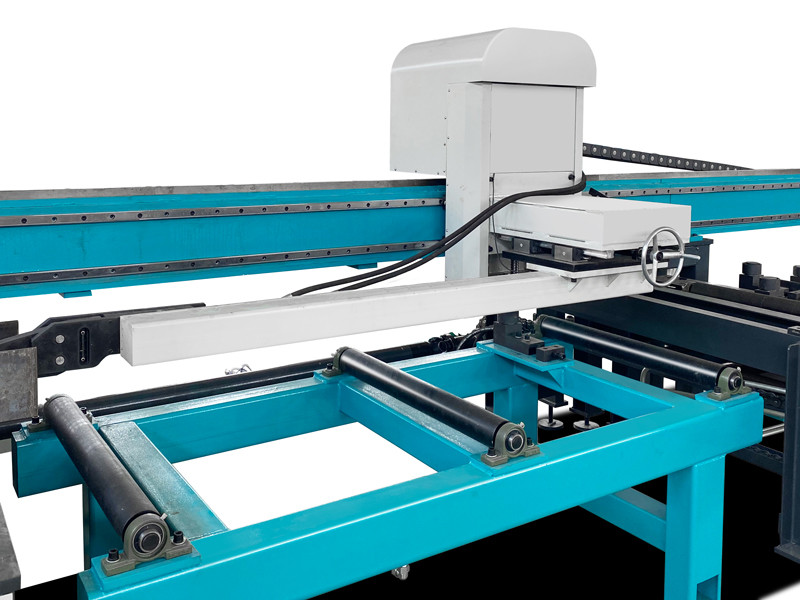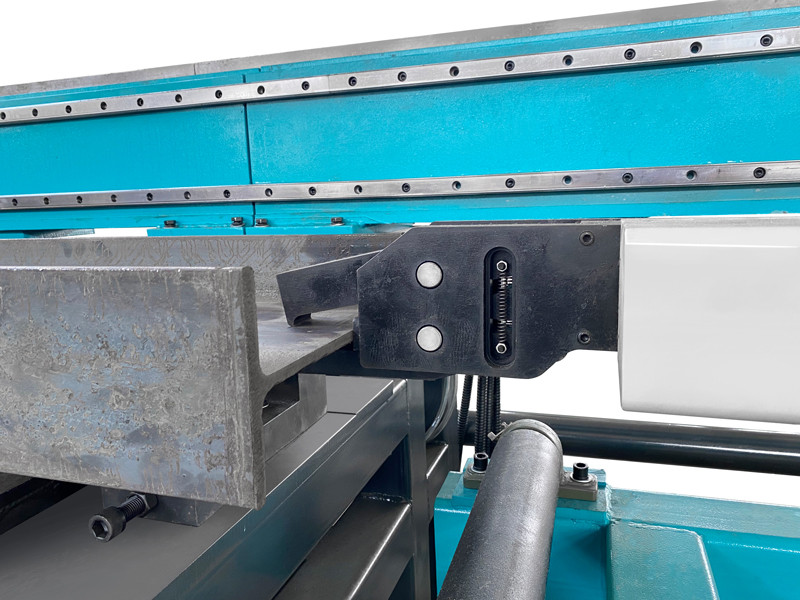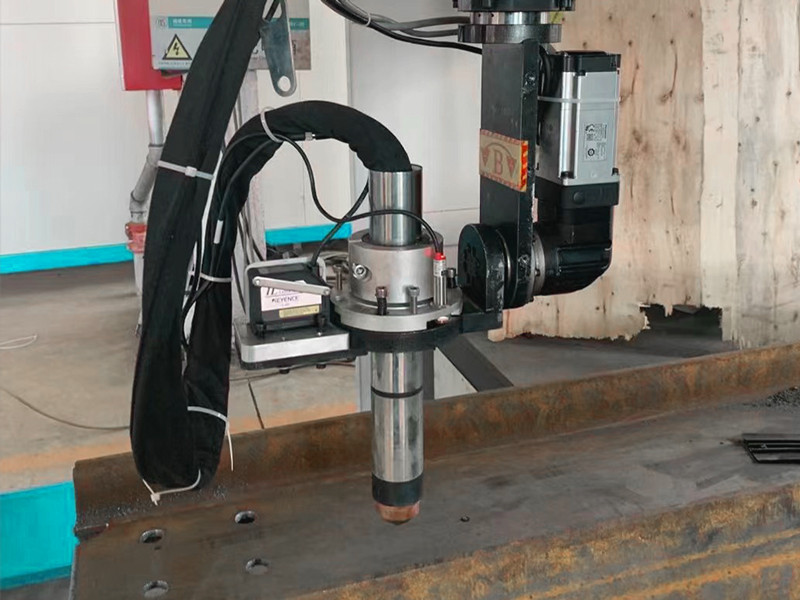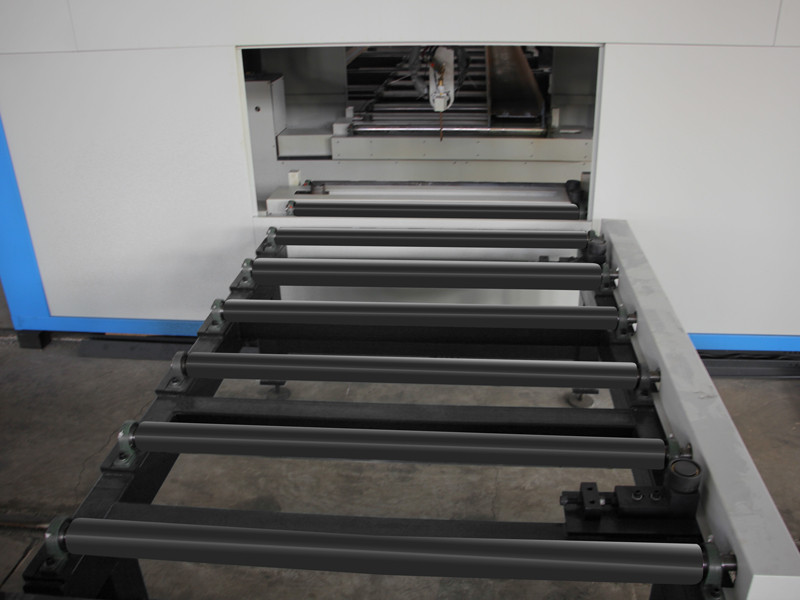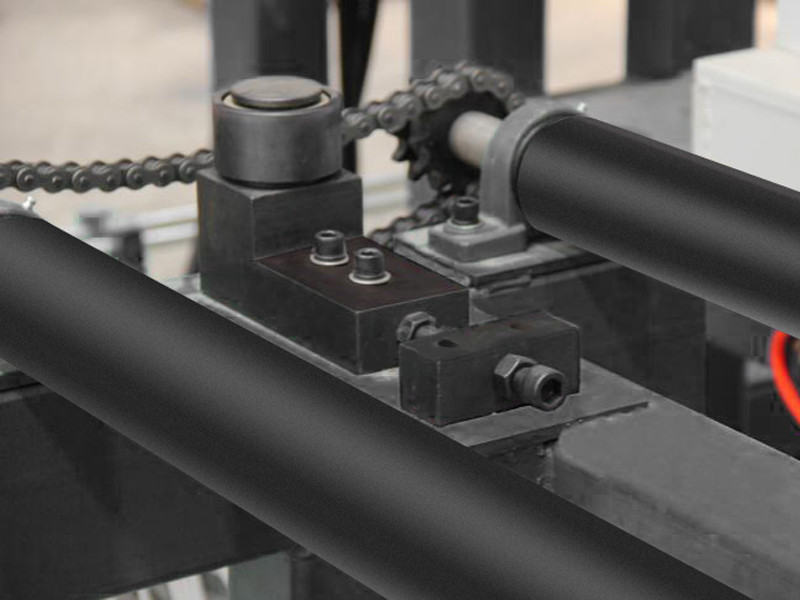 Output Side Positioning Reference
lSupport TEKLA steel structure deepening software 3D modeling data file cutting.
lSupport AUTOCAD 3D modeling file programming compilation.
lTrack path automatic optimization processing.
lTEKLA software exports NC files and batch generate G code.
l3D component preview.
lComponent nesting optimization.
lSupport all kinds of overlapping forms and bevel cutting.
lLaser sensor detection to solve position deviation.
lTorch anti-collision function.
lSolve the problem of thickness plate perforation, with dynamic pierce function,protect the cutting nozzle and improve the service life of consumable parts.
lWith high- definition hole cutting function.
lIntelligent marking.
lSupport Hypertherm XPR300 interface 422 communication protocol, automatically switch cutting process parameters.
| | |
| --- | --- |
| Item | Parameters |
| H Beam Size | 100mm-600mm |
| Channerl steel size | 100mm-600mm |
| Cutting method | |
| | Huayuan 300A or Optional |
| | |
| | ±1.5mm |
| | According to drawings confirmed by both parties(It will be provided when technical agreement signed) |
| Cutting speed | 10~3000mm/min |
| Moving speed | 10~9000 mm/min |
| Maximum profile weight | 1000kg |
| Profile cutting form | Fixed length straight cut, fixed length oblique cut and end socket function |
| Cutting accuracy execution standard | ISO9013-2002\ISO8206-1991\ JB/T10045.4-1999JB |
1

2

3

4

5

TEKLA DSTV NC1 file generate.Through software BCS&BMS V1.09P Automatic& batch generate PIP cutting code file.

Pass the single piece cutting code file through the PIPNEST nesting software, automatically optimize the combination to generate the nesting program and material table statistics.

Visually view the cutting trajectory, check the cutting length and component weight with the 3D graphics preview software PIPVIEWER1.03

Gallery programming directly enters profile specifications via dialog window, calls process category conversion cutting code

After the code is completed, transfer the cut file to the device, job preparation
1

2

3

4

5

Machine start inspection, including plasma power and gas pressure

Profile preparation, feeding to the input roller side to the positioning datum

Cutting program called, Clamp automatic height positioning, Automatic transfer to cutting station

Start cutting(laser detection, collision pause), slag discharge,finished cuttings output

Finished cuttings to output storage area
YOMI Control System Interface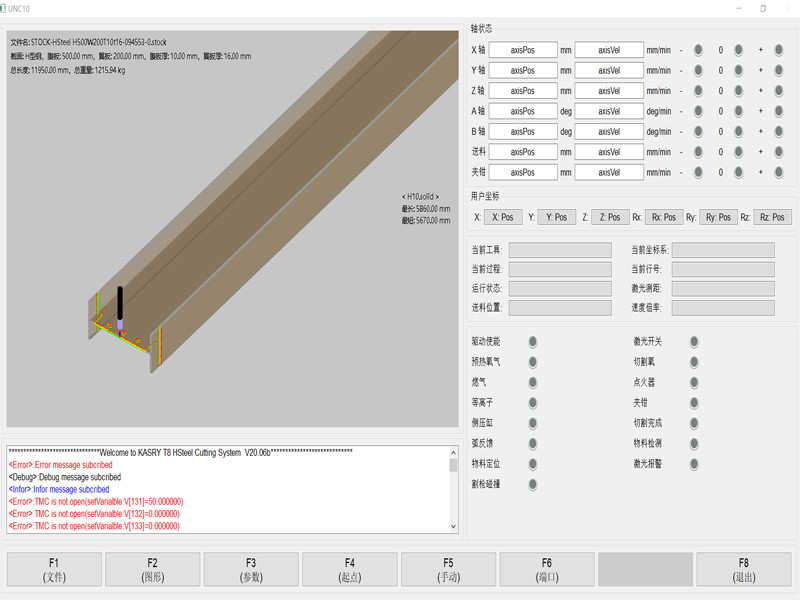 It supports Chinese and English operation interface
TEKLA software interface, batch output cutting code through Tekla2Solid Beam software

Automatically generate *.SOLID cutting code, the cutting file name is automatically generated according to TEKLA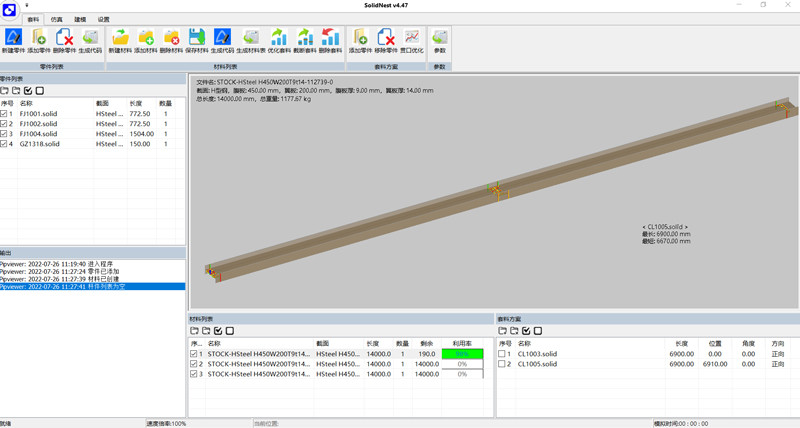 Complete automatic nesting of raw materials through SolidNest nesting software, and generate nesting code and material statistics table information, Visually display information such as track line, cutting line, profile inner and outer wall contour, component length and weight, etc.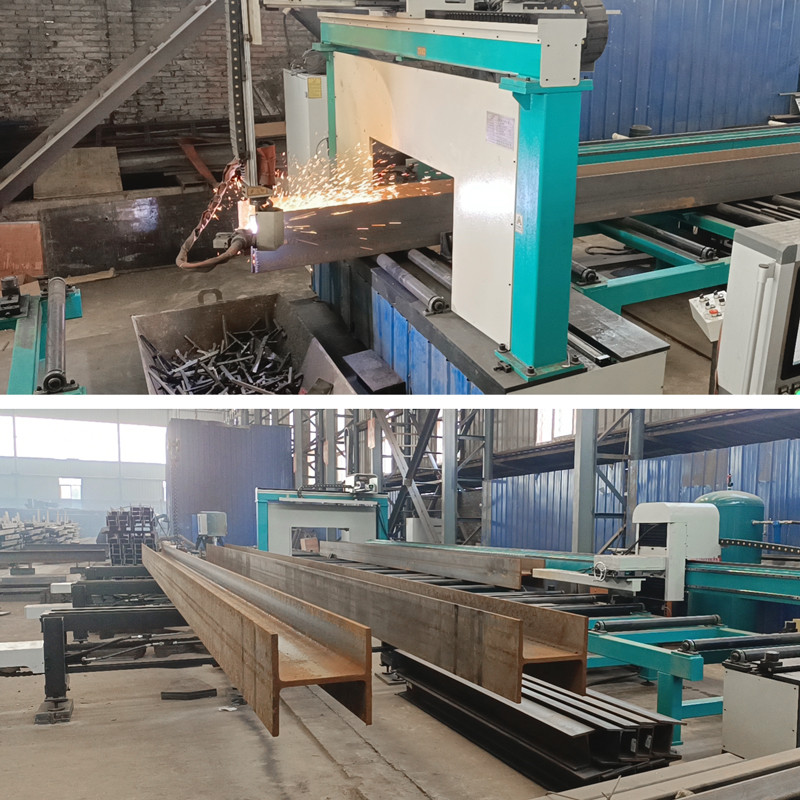 Customers'Project

Powder coated products are more resistant to chipping, scratching, UV rays, and corrosive elements.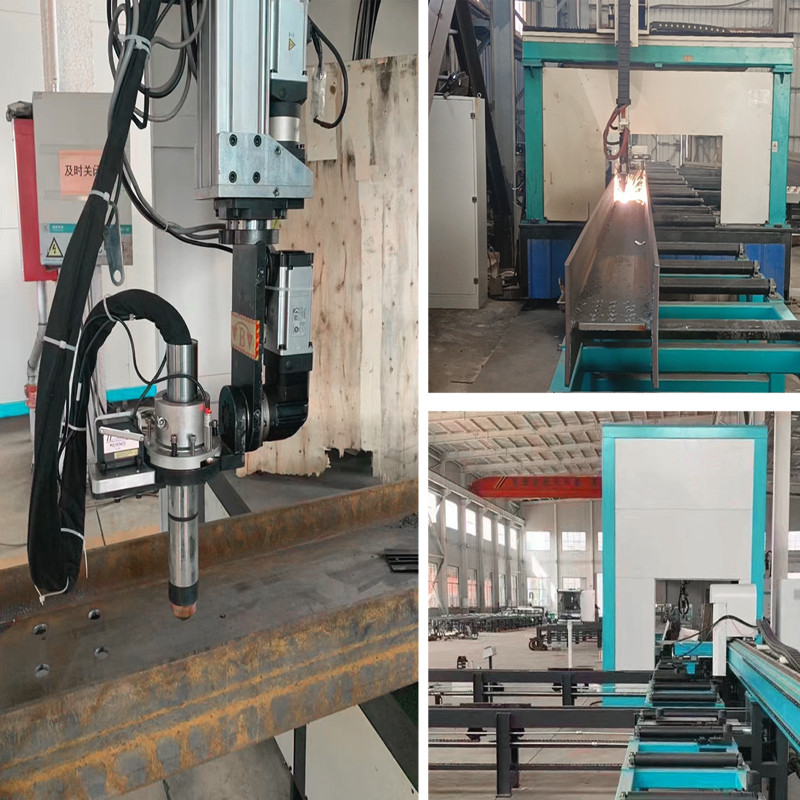 Cutting Sample

Make your products more durable and colourful by powder coating furniture