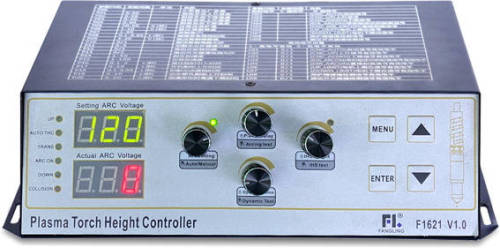 Torch Height Controller(THC)
Description
1) Auto initial height sensing(IHS)
2) Auto arc voltage height control
When it fit to start auto height control, if arc voltage do not exceed 30V which control.
3) Auto torch promote after collision
When collision happen in a condition which torch and down is not working, torch can automatic promote, the time named urgency collision rise spear time. When down initially detection is working, or when collision happen within torching, auto torch promote, the time named down height time.
4) Auto torch promote after torch is accomplished
After torch is accomplished,auto torch promote, height can change by setting parameter.
such as, set auto/manual mode of THC, manually control torch up and down, IHS test arc start test.......etc.
After numerical control system send arc start signal, THC can automatic accomplish down initially—arc start—arc start feedback success, after CNC receive signal which arc start feedback is successful, machine tool start to motion and incise.
7) The function of displaying and monitoring
The panel has three spin buttons; it can change arc voltage, initial height and delay time
for piercing.
10) High and low level control
Input switch can choose using low level or high level, it can suit complicated applied environment. The default level is low. Also it can be changed by menu.
11) The function of avoiding collision
When torch is working, if the lower arc voltage setting value(or nozzle loss) lead to torch collide work piece, THC can send rise signal , it can avoid torch collide work piece continually and damage work piece. When collision happen in a condition which torch is working, if collide have happened several times, we can make numerical control stop work. Before equipment leave factory, if collision is happening, CNC will make torch stop work. If user do not make collision input signal connect with CNC, so when collision happen a condition which torch is working, CNC cannot receive the collision signal, it make torch continue to work.
Whatever numerical control system whether have stopped torch, when collision happened, THC can promote torch height automatically until down height initially.
When torch is not working, if torch collide steel plate, torch will automatic promote a height named urgency collision rise spear height(in general, this height is higher than down height, and this parameter can be change).
12) Intelligent arc voltage adjust
When intelligent arc voltage adjust is been use and torch is working, if torch collide continuously steel plate twice, arc voltage can increase automatically a value which we have set (this parameter can be change, it is 5V that we set), for example, if arc voltage setting value is 110V, after torch collide continuously steel plate twice, arc voltage setting value increase automatically 5V, arc voltage setting value is 115V now, it can promote torch height to avoid collide work piece when torch is working.
13) Dynamic pierce function
During torch is working, if set-pierce have delay, torch can promote a height when arc start work at the moment. Before delay time of piercing have accomplished, torch can descend a height which it is the same with promoting height. It can be named dynamic pierce function similarly. When piercing is working, torch need promote a height, it can avoid dress get into torch head. If dynamic pierce lifting times that we set is 0, torch cannot promote when arc start is working.
14) Collision signal feedback
THC can make numerical control system receive collision feedback signal, it can avoid that torch is working after collision have happened. THC make CNC receive collision feedback signal after collision happened several times, it can keep coherent torch.
Hardware Configuration
1).Monitor: 7-inch 800*480 high-resolution 16 million colors color high-brightness LCD screen
3). User program space: 256M
4). Main frequency: 400MHZ system main frequency
5). USB: USB1.1 interface is at front, at least 16GB USB flash drive is supported.
6). Keyboard: PCB film keyboard
7). Chassis: The all-steel structure is completely shielded, which can truly prevent electromagnetic radiation, anti-interference, and anti-static
System Features
Chinese, English, Spanish, Portuguese, French, Russian, Danish, Korean, Japanese and other language menus, one-click language switching. In addition to Chinese and English, the customer's assistance is required to provide language translation files. In addition to Arabic, other languages ​​can be supported.
48 kinds of commonly used graphics library (including grid graphics), you can choose to set the slice size and hole size.
Support EIA code (G code) and various nesting software such as FastCAM, FreeNest, SmartNest, IBE. Support suffixes TXT, CNC, NC, MPG, B3 and other G codes.
Support common commands of ESSI code.
Graphic scale, rotation, mirror adjustment
The graphics can be arranged in matrix, alternately, and stacked
The original size of the workpiece and the size of the slit are displayed at the same time, which is intuitive and convenient
Graphical steel plate correction, any steel plate edge can be used as a correction edge